Each Semester, The Second Half has an interesting and diverse selection of Special Events.
Spring Classes started Tuesday, Feb. 18, 2013 and end on Friday, June 6.
Most of the events on this page are for Members Only (But not all).  Membership is $25 per academic year.  What a bargain!  If you want to take classes, there is an additional registration fee for that — see the Registration page for a copy of the catalog and application form.
Spring Semester 2014 Events

2014 Lifelong Learning Conference:
Five College Learning in Retirement, the Road Scholar Institute Network, and Road Scholar are pleased to announce the Northeast Regional Lifelong Learning Conference to be held Sunday, June 1 (late-afternoon registration) through Tuesday, June 3, 2014 (wrap up with lunch), at the University of Massachusetts Hotel and Conference Center in Amherst, Mass.
For more information go to:  LLI conference June 2014
 Fall Semester 2013 Events
These events are still listed to provide examples of the events offered by The Second Half.
EVENT #1   Beyond Haystacks and Water Lilies: The Other Side of French Impressionism
Prof. Thomas Stubblefield, art history professor at UMASS Dartmouth, offered a well-received presentation on Monday, September 30 at 2:30pm in Room 203 to an audience of thirty-nine members.  The lecture focused on 19th century French Impressionist painting and the role of social unrest and industrialization in the rise of this new style.  So many members attended this delightful event that we had to move the presentation to a larger room.
EVENT #2    Is Your Diet a Healthy One?
Jan Tabor, an expert on wellness, presented a talk on "hidden salt and fat in your diet".  It was held on Monday, October 28 at 2:30pm in Room 208.  Refreshments were served.
EVENT #3   Pre-Concert Lecture on J. D. Zelenka's Magnificat in D Major
David MacKenzie, Conductor of the New Bedford Symphony Orchestra, was a guest lecturer in Thom Sargent's class on Thursday, November 14 at 2:30pm in Room 208.  All were welcome to this special presentation.  Zelenka is probably one of the greatest composers you have never heard of.  His music was admired for its harmonic inventiveness and counterpoint.  This charming work is as surprising as it is gorgeous. (NBSO notes).  Refreshments were served and discounted concert tickets were available for the production of Handel's Messiah and Zelenka's Magnificat in St. Anthony's Church on Sunday, December 1 at 3:00 pm.
Holiday Luncheon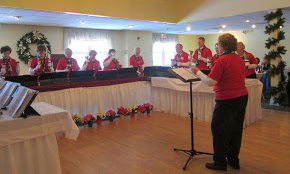 This annual event was Wednesday, December 11th at 12 noon at Rachel's Lakeside in Dartmouth.  As a campaign to attract new members, the Membership, Publicity and Special Events Committees promoted this luncheon as a 'Bring a Friend' along with you.  We had entertainment by our own Handbells for Fun Class. They (15 Handbell Ringers ) captivated the roughly 160 diners with many holiday tunes.  We collected non-perishable food items for a soup kitchen.