This is a Second Half art appreciation study group facilitated by Ned Daniels. But honestly, if you walked in on it, you would think you were in an art class.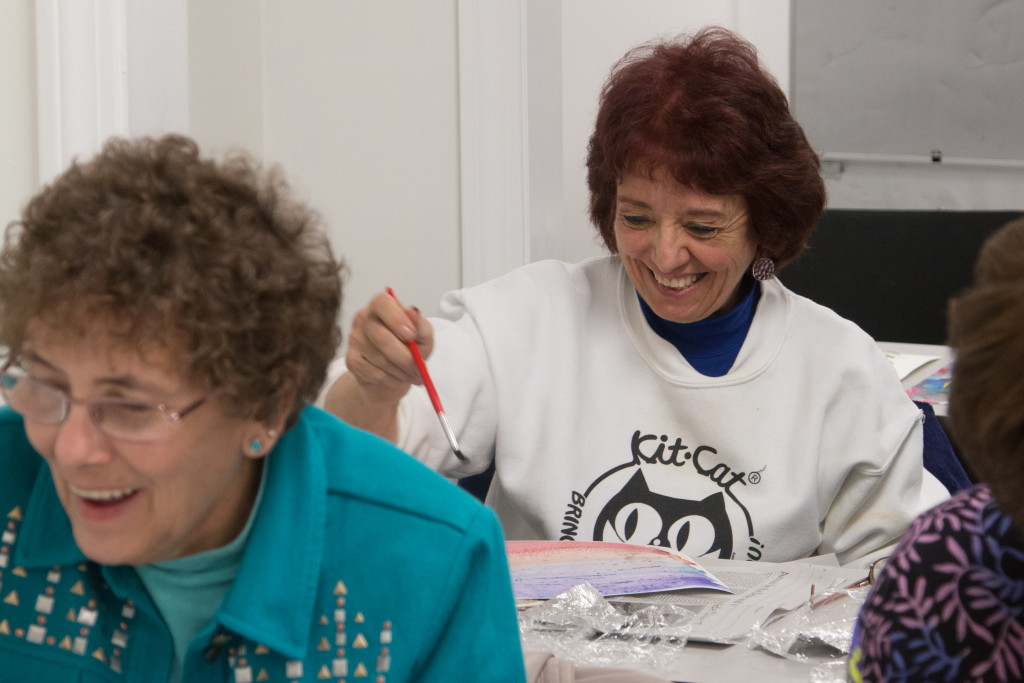 When I think "art appreciation," I think of slide shows, lectures, and museum visits – but Ned wants to get his students involved so they understand the art not only with their eyes and minds, but with their hands. So that explains why everyone was having such a great time painting – and not just any type of painting because this is art appreciation.
The subject of this particular class was the abstract expressionist artist Helen Frankenthaler and "Color Field Painting." So what the heck is "Color Field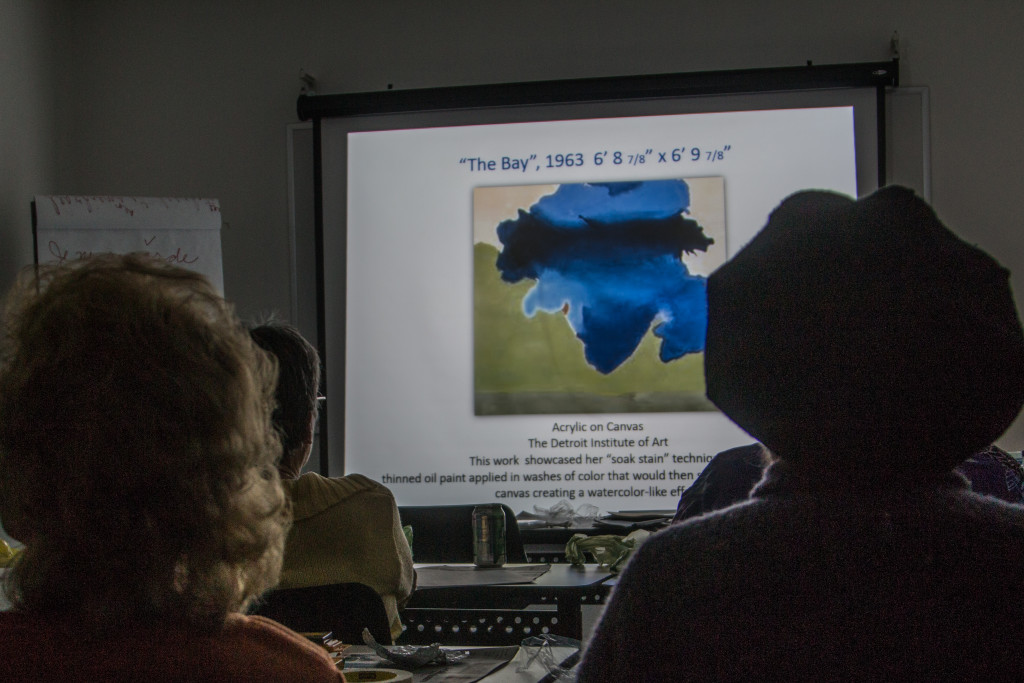 Painting?" Ned explained some and he showed some examples of Frankenthaler's work and connected it with other artists and told how it all fit into the history of art,
But more importantly, he had everyone experience "color field painting" for themselves. And for most of the session students – regardless of art skills and training – started to play under Ned's guidance with watercolors on paper – but paper he first sprayed with water. And before they had finished, he went around sprinkling on different types of salt, and even flavored the paintings with a little sugar – not to sweeten the tongue, but to add texture and see how salt and suger reacted with the paint. He also encouraged the use of non-paint brushes, such as Q-Tips, plastic bags, and aluminum foil.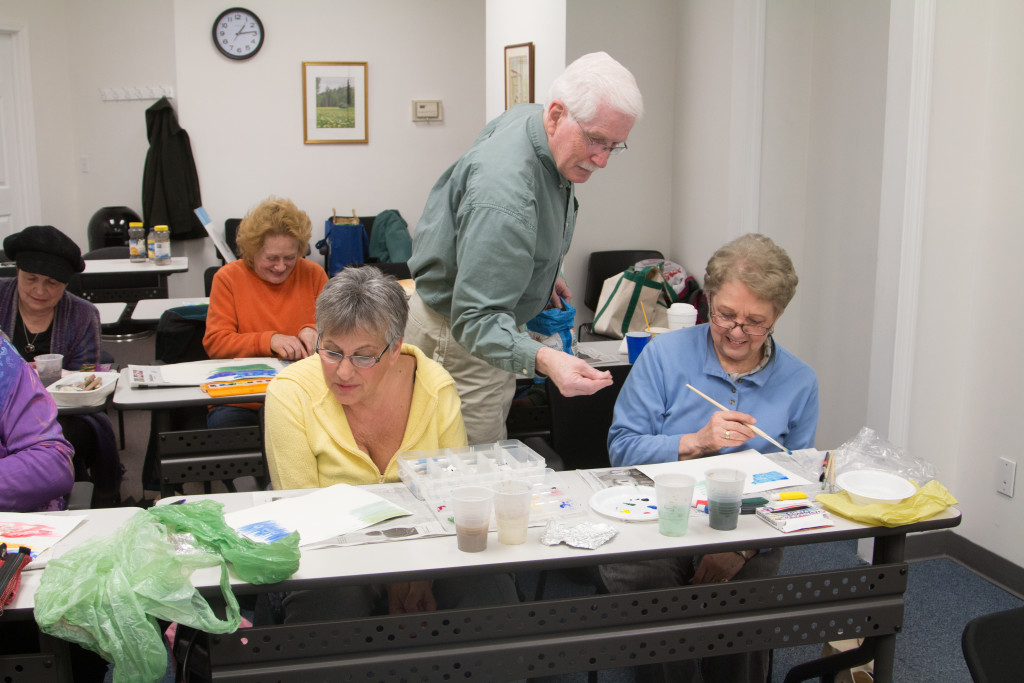 While I visited a single class, this is really Ned's general approach to the subject, as Susan Hankins, one of his student explains: 
Ned has taken simple materials like melted crayons, strips of constuctions paper, collage , and had us engage, create and explore the process, style and feel of the artists we have talked about. We critiqued our works ( no judgement) and he has enabled us to connect with the artists we studied and get a clearer understanding of thier work in the times they lived and their place in history. He has given us a new insight into visiting Musuems and seeing the studied artist works. He always claims that he is "not an artist" but truly he is indeed a very creative soul. Always very enjoyable and inspirational classes."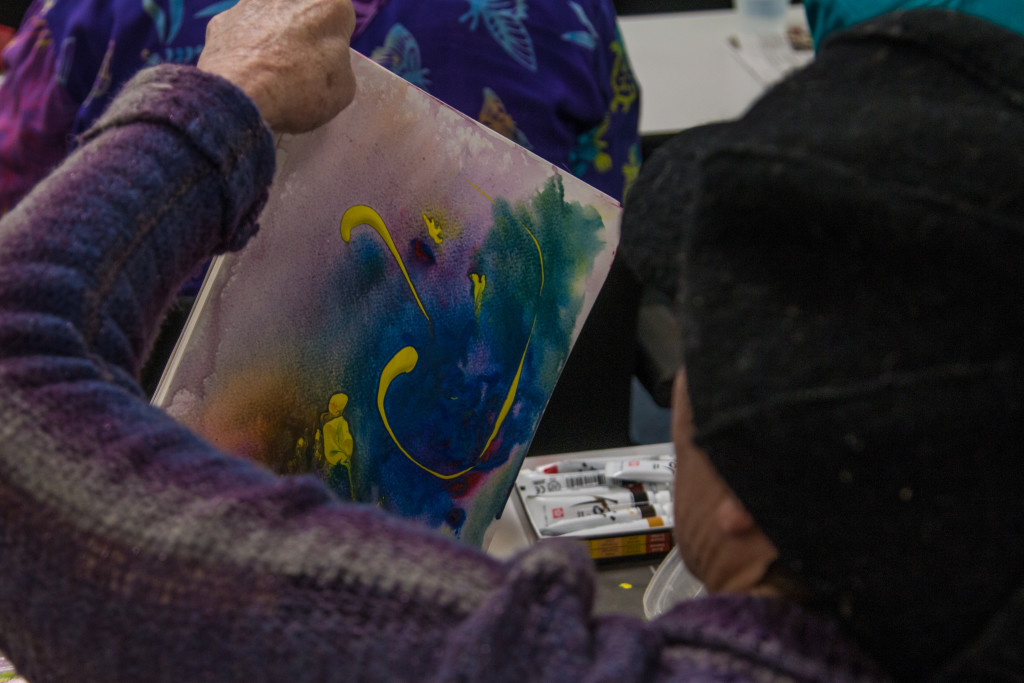 In the class I watched the result was 90 minutes of glee and learning of the sort I haven't seen since – well, maybe kindergarten combined with some of my best colleges classes. And students got plenty of advice, encouragement, and good natured kidding from Ned and their fellow participants.
Art class – not really – art appreciation, oh my, yes!