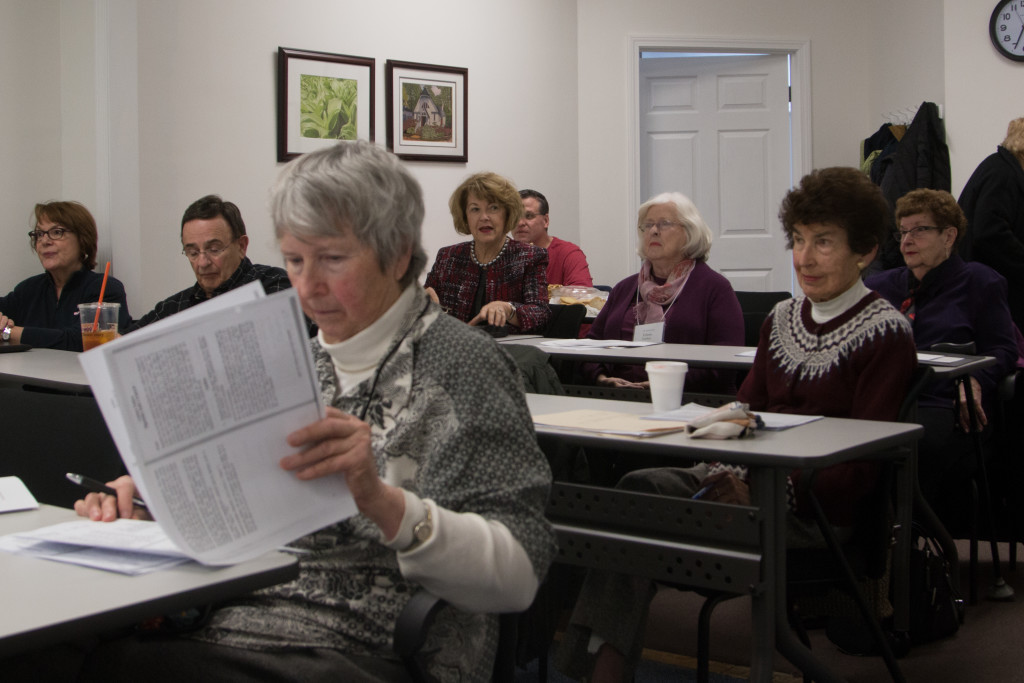 The Fall semester is soon coming to an end.  Come celebrate together at the Holiday Luncheon on December 9.  Check the Events page for details.
The Spring 2016 Catalog is in the works and there will be some new courses to consider!  Check back later for details.
Registration guidelines for Fall 2015:
You may send in your membership form and study group registrations at any point; however, all registrations received prior to August 18, 2015, were date-stamped August 18, the day of the Open House.  If you were wait-listed for a course in the Spring, you were given priority if we had your registration  by August 18 AND if you checked off the appropriate box on the registration form requesting priority.
Those with a legitimate priority request – that is, they were wait-listed for the same study group in the spring and have checked the priority request box – are given first consideration.  After that, if a study group is over-subscribed, then members are chosen by lottery. Quite frankly, we expect this to be the case in only a few study groups. Those not filled on the first day of registration – and this will be the majority of them if past experience is any indicator – will be filled on a first-come, first-served basis.
Every semester's offering is a mixture of old study groups, revised , and new ones.  To get an idea of what we offer, see the current  Spring 2015 Course Catalog   And if you really want to see a full range of possibilities you can review older catalogs from  Fall 2014,  Spring 2014, and Fall 2013.  Please keep in mind these are out-dated catalogs. Wait for the current catalog, issued each semester, to apply for membership and register for study groups.
Application to become a Study group Leader (deadline is Nov. 10)

Interested in teaching, sharing an experience, talking about a hobby?  Fill out this application and present it to the Curriculum Committee (By sending it to The Second Half office).  Submit your study group ideas for the Spring 2016 semester.  [This will download as Word file for you to add your information to..] Link to the Spring 2016 Study Group Proposal Form  Spring 2016.
Membership
One must be a member of The Second Half to attend courses and most events. To learn more, go to the Membership Page.
The Fall Semester  begins September 21 and runs through early December. The  spring 2016 semester begins in February of 2016 and runs through early June.
Here's the calendar for the coming year.
SECOND HALF CALENDAR
2015 – 2016
Fall 2015
Catalog mailed to mailing list and published on web site – July
Open House – Tuesday, August 18, 1:00PM, Westport Library
Fall Registration Begins on Tuesday, August 18
Fall Registration Deadline – Friday, September 4
Confirmation Mailing – Thursday, September 10
*Study Groups Start – Monday, September 21
Columbus Day Holiday – Monday, October 12– no study groups meet 
Deadline for Study Group Proposals – Tuesday, November 10
Veterans Day Holiday – Wednesday, November 11 – no study groups meet
Thanksgiving Holiday, Thursday, November 26 – no  study groups meet
*All Study Groups end no later than Friday, December 4
Holiday Luncheon– Wednesday, December 9
Spring 2016
Catalog mailed to mailing list and published on the web site – January
Open House – Wednesday, January 20
Spring Registration Begins on January 20
Spring Registration Deadline – Friday, February 5
President's Day – Monday, February 15
*First Study Groups Start  meeting– Tuesday, February 16
Patriots Day Holiday – Monday, April 18 – No Classes
Deadline for Study Group Proposals for the Fall – Monday, May 2
Spring Luncheon and Annual Membership Meeting– Wednesday, May 25
Memorial Day Holiday – Monday, May 30 – no classes
*Classes End – Friday, June 3
Board of Directors Annual Meeting – Monday, June 6 – 9:30 a.m.
Study Group Leaders Luncheon – June 15 – Site TBA
---