Each Semester, The Second Half has an interesting and diverse selection of Special Events.
View some photos and see some of the fun we have:  Second Half Photo Gallery
Spring Semester 2015 Events
Most of the events on this page are for Members Only (But not all).  Membership is $35 per academic year.  What a bargain!  If you want to take classes, there is an additional registration fee for that — see the Courses page for a copy of the catalog and application form.
ALL  classes will be cancelled whenever Fall River Public Schools cancel due to weather conditions.  Check Providence TV Channels 6, 10, and 12.
Wednesday, April 8 — New Members Reception, 3 – 5 pm — MEMBERS ONLY, by invitation
[This event has been postponed until April 22, same time and place.]
This will be held at Jennifer's home on Smith Neck Road.  Contact the office if you need directions.
Thursday, April 23, 2015 — Spring Trip  [NOTE:  This trip  has reached capacity.  If you sign up now you will be put on a waiting list.]
Visit Lexington, where the first battle of the American Revolutionary War was fought and famously, "the shot heard round the world" was fired! Henry James says of Concord, "The biggest little place in America", the wonderful home of literary figures: Ralph Waldo Emerson, Henry David Thoreau, Nathaniel Hawthorne and Louisa May Alcott.  Leave at 7:30am, return 5:30pm.
Price : $65.00, includes bus fare, docent, luncheon, and bus driver's gratuity
Thursday, May 14, 2:00 – 3:30 pm,  Lecture, "The Risk of Reading"
Robert Waxler will discuss his book "The Risk of Reading" — How Literature Helps Us to Understand Ourselves and the World Especially in this World of Digital Overload.  This will be held at Southworth Library, Dartmouth.
Tuesday, May 19, 2015 — Spring Adventure to Harvard University, Harvard Square & Mount Auburn Cemetery
Visit 3 museums at Harvard University — Fogg, Busch/Reisinger and Arthur M. Sackler.  Have lunch in Harvard Square and, weather permitting, join a guided walking tour of the Cemetery.  Price: $45 includes bus, museum entrance, docents at cemetery and gratuity.  Preference will be given to Ned Daniel's Art Class.  Contact Salma or the office for more information.
LOOKING AHEAD
Thursday, June 11, 2015, Providence Performing Arts, "Kinky Boots"
Salma has arranged for 40 tickets to this Broadway show – a successful new musical, snapping up SIX Tony awards, including Best Musical.  Price: $69, main floor, good seats.  Call Salma for reservations.  Tickets will be available until November 1.
Wednesday, September 16, 2015, Providence Performing Arts, "Beautiful" – the Carol King Story, 7:00 pm
"Beautiful" tells the inspiring true story of King's remarkable rise to stardom, to becoming one of the most successful solo acts in popular music history.  Providence is the first stop for this show and it will not come to Boston until 2016.  Cost is $70 for good seating on the main floor.  Call Salma for reservations.
PAST EVENTS

Spring Semester 2015 Events
Monday, January 5, Registration Begins for the Spring Semester
[Revised 1/19/15] Registration will be on a
first come first served
basis, starting today!!  [The online credit card feature is currently disabled.  Sorry for any inconvenience. ]  You may register for courses on line, but must pay by check.  As usual, you may print and fill out the registration form and mail it to the office with a check for your payment.    The office will be open  from 9am to 3pm on Monday through Thursday. [NOTE:  The Class List and registration form will be posted on the web site on January 5, and it will be mailed out on that same day.]
Thursday, January 22, Spring Open House at Westport Library, 1-3
You can register at the open house and pay by check at that time.  Snow date is January 29.
Tuesday, February 17, Spring Classes Begin  (Delayed until Feb. 23 due to weather.)
Check your schedules for correct times and locations.
Wednesdays, March 4 and 11,  2:30 – 4:30, GROUP 1: Workshop, 21st Century Communications — Expanding Social Interaction through Facebook

This FREE workshop is for TSH Members ONLY and will be held at the main building on Bedford St., Fall River.  Facebook gives you a tool for regular social interactions across generations and diverse interests.  The first session will cover the basics of joining Facebook and posting comments, pictures, and videos to it.  Between the sessions you will be expected to sign in to a special Second Half Facebook group using  your computer, tablet, or smart phone, and to post something there.  On the second Wednesday, we will follow up, answering questions and covering more advanced details about Facebook use.  Participation will be limited by the space available and on a first come, first served basis.  A special sign-up sheet will be available at Open House.
Wednesdays, March 18 and 25, 2:30 – 4:30, GROUP 2: Workshop, 21st Century Communications — Expanding Social Interaction through Facebook
Because there was so much interest in this workshop, this is a repeat of the workshop listed above.
Fall Semester 2014 Events
Wednesday, August 13, Open House, 1:00 pm in Woodland Commons on the Umass Dartmouth main campus
Go to parking lot #7 and take the free shuttle to Woodland Commons.  There is a new format this year so that it will be easier to find out more about the classes where you have the most interest.  There will be plenty of opportunity to socialize in the lobby.  Please come and bring along a friend!
Wednesday, September 10,  Member Reception from 2 – 6 pm at our new location — 205 Bedford St., Fall River
You may park for free in either of the 2 parking lots across the street.  (Beware, it is a ONE way street.) Come and see the new offices and classrooms.  We even have a kitchen!  Refreshments will be served.
Sunday, October 19, "A Fall Day in the Berkshires"
Travel the Mohawk Trail to historical Williamstown,  MA to visit the Sterling and Francine  Clark Art Institute.  Newly renovated at $145 million and expertly designed by prize-winning architect, Tadeo Ando, the museum is truly magnificent.  Lunch at "Orchards" in Williamstown.  Visit Yankee Candle Village in Deerfield, MA on the return trip.
Thursday, October 30, "John Adams National Historic Park"
This visit includes three historic houses:  the John Adams birthplace, the John Quincy Adams birthplace, the Old House at Peace Field, the 1870 Stone Library, the 18873 Adams Carriage House, the gift shop and 12 acres of historic grounds.  Lunch on your own at Harvard Square followed by a visit to Henry Wadsworth Longfellow's house.  (Students taking Joseph Cote's class will be considered first.)
Thursday, November 13, Writing Workshop: "The ABC's of Writing and Publishing Your Book", 1 – 4 pm at the Southworth Library in Dartmouth.
This workshop will be presented by Authors Without Borders, a consortium of published writers. If you are interested in attending please RSVP to Beverly as soon as possible.
Whether you want to write fiction, nonfiction, poetry, or plays — in this interactive panel-discussion by four published authors in different genres, students will learn the techniques that will enable them to bring their ideas to a finished manuscript and have it published.
Thursday, November 20, Messiah Lecture, 1 – 3 pm at the Second Half, 205 Bedford St., Fall River, Classroom A.
Come hear Dr. David MacKenzie, the music director and conductor of the New Bedford Symphony Orchestra, present an informative and stimulating pre-concert lecture on a NBSO concert to be held at the Zeiterion Theater in New Bedford.  The lecture will be on the upcoming performance of Handel's Messiah and Bach's Gloria.  After the lecture light refreshments will be available.  Also, tickets for the concert will be available for purchase.  (The concert is on Sunday, November 30th at 3 pm.)  You must RSVP to the office if you would like to attend this lecture since space is limited.  Either call 508-677-4694 or send an email to office@secondhalflli.org.
Wednesday, December 10, noon, Holiday Luncheon at Cotali Mar
The Holiday Party will be in New Bedford this year, at 1178 Acushnet Ave.  They have ample parking and offer Valet parking for those needing it.  Tickets are available  in the office for $25 per person.  There will be a cash bar.
The office will be closed from December 19, 2014 through January 4, 2015.
Spring Semester 2014 Events
Thursday, May 14, Financial Planning Class, 9:30 am Paul Schatz, founder and president of Heritage Capital, is coming to speak in Doug Harvey's Financial Planning class.  Other members of TSH are invited to participate. [NOTE:  Please call/email the office if you plan to attend: (508) 677-4694, office@secondhalflli.org]
Thursday, May 22, Organ Demonstration, 1 – 2:30 pm Thom Sargent, facilitator of the Bach study group is offering to provide an organ demonstration at St. Anthony of Padua Church in New Bedford.  You must be able to climb 58 steps to get to the organ lost.  He calls it a free cardio workout! [NOTE:  Please call/email the office if you plan to attend: (508) 677-4694, office@secondhalflli.org]
Wednesday, May 28, Annual Spring Meeting and Luncheon, noon at White's Restaurant We will be meeting at White's Restaurant, 66 State Rd., (Rte. 6) Westport, MA for the Annual Membership Meeting and Spring Luncheon.  Reservations are required.  Cost is $20 per person and you must select your meal option at time of registration (broiled scrod, chicken breast, vegetarian).  This event is open to current members and guests are welcome to join us.  Socializing from noon to 12:30.  The bar will be open for soda/wine purchases.  Lunch will be served at 12:30 pm.    Please wear your name tag.
Elections of the Board of Directors will take place during the meeting following lunch.
Fall Semester 2013 Events
These events are still listed to provide examples of the events offered by The Second Half.
EVENT #1   Beyond Haystacks and Water Lilies: The Other Side of French Impressionism
Prof. Thomas Stubblefield, art history professor at UMASS Dartmouth, offered a well-received presentation on Monday, September 30 at 2:30pm in Room 203 to an audience of thirty-nine members.  The lecture focused on 19th century French Impressionist painting and the role of social unrest and industrialization in the rise of this new style.  So many members attended this delightful event that we had to move the presentation to a larger room.
EVENT #2    Is Your Diet a Healthy One?
Jan Tabor, an expert on wellness, presented a talk on "hidden salt and fat in your diet".  It was held on Monday, October 28 at 2:30pm in Room 208.  Refreshments were served.
EVENT #3   Pre-Concert Lecture on J. D. Zelenka's Magnificat in D Major
David MacKenzie, Conductor of the New Bedford Symphony Orchestra, was a guest lecturer in Thom Sargent's class on Thursday, November 14 at 2:30pm in Room 208.  All were welcome to this special presentation.  Zelenka is probably one of the greatest composers you have never heard of.  His music was admired for its harmonic inventiveness and counterpoint.  This charming work is as surprising as it is gorgeous. (NBSO notes).  Refreshments were served and discounted concert tickets were available for the production of Handel's Messiah and Zelenka's Magnificat in St. Anthony's Church on Sunday, December 1 at 3:00 pm.
Holiday Luncheon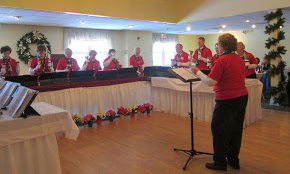 This annual event was Wednesday, December 11th at 12 noon at Rachel's Lakeside in Dartmouth.  As a campaign to attract new members, the Membership, Publicity and Special Events Committees promoted this luncheon as a 'Bring a Friend' along with you.  We had entertainment by our own Handbells for Fun Class. They (15 Handbell Ringers ) captivated the roughly 160 diners with many holiday tunes.  We collected non-perishable food items for a soup kitchen.